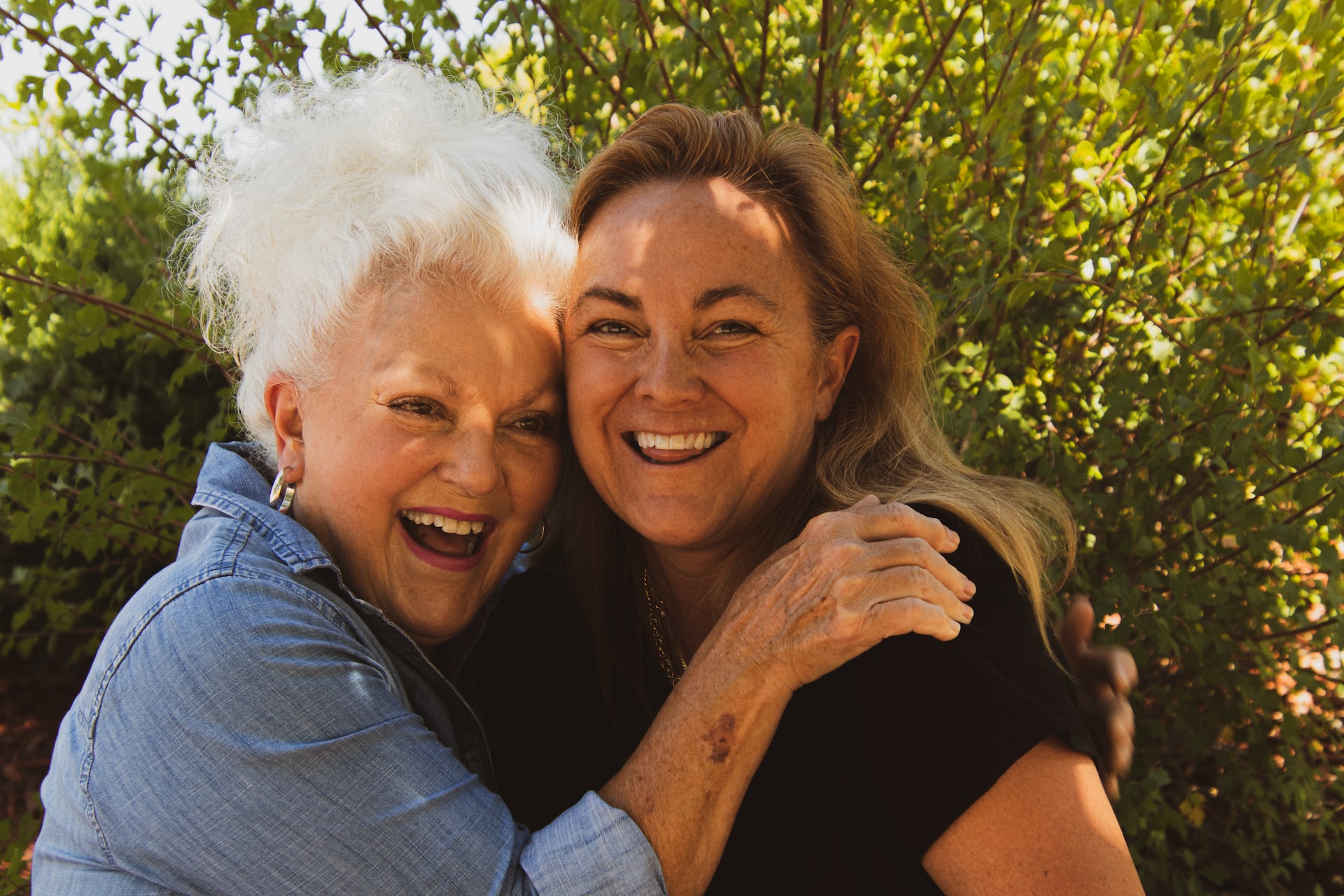 Maybe you or someone you know is having a hard time with their family members. It's difficult and it's sad because family ties are those you're meant to be able to rely on, though that isn't always the case for everyone. But just like the tide meeting and leaving the shore, there can be an ebb and flow to relationships. And that gives hope to those estranged from their parents.
New research by Rin Reczek, professor of sociology at Ohio State University, and colleagues, delved into data from a longitudinal survey using responses from 1979 through to 2018, to uncover information about U.S. paternal and maternal estrangement*. They sought to look at how gender, race/ethnicity, and sexuality, differently determined the rates and ages of estrangement from one's mother and father, and subsequent reconciliation or 'unestrangement'.
Estrangement happens more often with fathers than with mothers
The study revealed a considerable difference between the rates of adult children's estrangement from their mothers vs. their fathers.
Perhaps unsurprisingly, adult children are far more likely to be estranged from their fathers than their mothers. Mothers, after all, are usually the primary caregivers, forging deeper bonds from birth (and during pregnancy).
A huge 26% of respondents reported of at least one period of estrangement from their father from the age of 15 onwards whilst a much smaller 6% reported at least one period of of estrangement from their mother from the age of 15 onwards.
The average age of one's first paternal estrangement was 23 years old whilst the average age of first maternal estrangement was 26 years old.
The difference in age of first estrangement perhaps suggests that the maternal tie takes longer to break in testing circumstances, or that mothers and children are less likely to push their relationship to breaking point early on.
Other differences in estrangement
There were other interesting differences too.
For example, sons were less likely to be estranged from their fathers than daughters were, 24.3% vs. 27.7%, respectively. However, the rate of estrangement from mothers was not statistically different for sons and daughters.
Furthermore, the rate of black adults being estranged from their mothers was considerably lower – 27% less likely – than the rate of white adults being estranged from their mothers.
On the other hand, black and latino adults were more likely to report a period of paternal estrangement than white adults.
This higher proportion of at least one period of paternal estrangement in black adults vs. white adults is likely at least somewhat due to people of colour being disproportionally incarcerated than their white counterparts.
Another factor may be the lack of financial stability that can stem from systemic discrimination/racism that holds back people of colour when it comes to career opportunities.
With regards to this latter point about life challenges, let's look at other experiences that help shed a light on why adult children may become estranged from their mothers and fathers.
Family dynamics can be varied
Lots of people think their family is weird. And all those 'weird' families can be weird in different ways.
And family to family differences can be pronounced: from different family dynamics, varied parental expectations, and different ethnic cultural attitudes about the parent-child relationship.
But there are also other factors that can affect the bonds between parents and their adult offspring.
Children's characteristics alter the chances of parental estrangement
Researchers found that the changes in the lives of adult children affected the chances of estrangement.
For example, when looking at the average age of first reported periods of estrangement, 23 and 26 years old for paternal and maternal estrangement, respectively, children who had been married and divorced in young adulthood, were more likely to report maternal and paternal estrangement than those who had never-married.
Those two major life changes – marriage and divorce – appear to somehow affect the relationship between parents and their adult children.
Another example is that adult children were less likely to be estranged from their father – when they'd had their own child. On the other hand, having had a child did not impact the rate of estrangement from ones' own mother.
This could be due to a number of reasons. For example, maybe the adult children who'd had their own children experienced greater appreciation for the father-child bond, thus striving more to keep theirs in tact with their father.
Or perhaps they are, consciously or subconsciously, driven to keep emotional and/or practical and/or financial support in place for their life as a young parent.
Or maybe they want to ensure their children know their grandfather and, therefore, work at keeping their paternal relationship intact.
Parental characteristics also alter the chances of parental estrangement
Importantly, certain parental characteristics decreased the likelihood of estrangement.
Those with parents that were older in age, employed, and fathers with higher education levels, were less likely to be estranged from their parents.
This effect may be due to greater stability within the romantic relationship of one's parents which then impacts the relationship stability between the adult children and their parents. It could also be due to greater financial support being given to the adult child, and thus a persisting connection between parents and child.
Furthermore, where the mothers and fathers were still living together, the chances of parental estrangement was much lower for both paternal estrangement and maternal estrangement.
In such instances, the adult child may have less resentment towards, and less instability in their relationship with their parents when compared with those adult children whose parents were separated/divorced.
It's also possible that the mother, or the father, may be a more powerful 'glue' keeping all intergenerational relationships intact when the family unit is still intact with both parents still living together, helpfully resolving conflicts between their spouse and adult child.
Reconciliation does happen
The heart-warming news is that more often than not, the adult children studied did become 'unestranged' with their parents at a later date.
Of those maternally estranged, 81.3% reconciled with their mothers, and of those paternally estranged, 68.6% reconciled with their fathers.
A further nice factor is that such reconciliation rates remained the same across different demographics: gender, race/ethnicity, and birth year. So even though there were variations in estrangement rates between genders, races/ethnicities, and birth year, the majority of them had reconciled with their parents at a later date.
How and why to reconnect with your parents
If you're estranged from your mother or father, it can be massively helpful to rekindle that important relationship. A happy reconciliation followed by a healthy relationship as an adult child can be extremely helpful to your self-worth, happiness and other aspects of your life, such as your relationships with others, your decision-making, your career advancement, and more.
Sometimes people don't realise how much a slight improvement in their relationship with their parents can change their life for the better. And of course reconcilliation isn't always possible for various reasons…but maybe it's more possible than you think.
To help you start thinking about and actually rekindling your relationship with your mum or dad, here are five questions to help you:
On a scale of 1-10, if 1 is not at all and 10 is more than words can say, how much do you want to reconcile with your mum/dad?
What difference would it make to your life if you reconciled with your mum/dad?
What was the true cause of the estrangement?
What other factors, if any, exacerbated the estrangement (such as those aforementioned risk factors, e.g. yours or your parent's employment, marriage, divorce)?
What could you do to help dissolve/overcome this problem to start the process of reconciliation?
What would be good next steps to take to start the process of reconciling with your mum/dad?
The outlook is positive
The wonderful news is that despite what may befall you and your parental relationships, there is a light at the end of the tunnel for many.
Though this longitudinal study highlights that family ties are not always as permanent as we might hope, it also helps to know that if you are having challenges in your parental relationships, you are not alone.
And that's something I see frequently when working with coaching clients. But whether strained or estranged, it is a situation that can have a very positive ending.
Just decide what you want, and then give it the necessary effort to achieve it. Chances are, you will, and your life will be so much better for it.
Reference
* Reczek, R., Stacey, L., & Thomeer, M. B. (2022). Parent–adult child estrangement in the United States by gender, race/ethnicity, and sexuality. Journal of Marriage and Family, 1– 24. https://doi.org/10.1111/jomf.12898
Shop affirmations and reminders
63 Romantic Relationship Affirmations | 66 Romantic Relationship Reminders | 36 Confidence & Self-esteem Affirmations | 39 Dating Affirmations | 66 Mental Wellbeing Reminders | 53 Affirmations For Achieving Goals